Sorry, this product cannot be purchased.
Verkocht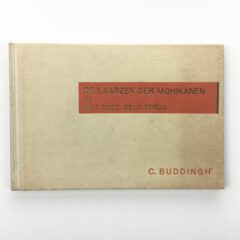 Cees Buddingh'. De Laarzen der Mohikanen of Niet goed, geld terug.
Gedichten. 1941 Dordrecht, De Semaphore Pers, eerste druk, oplage 270 genummerde exemplaren, dit is één van de eerste 120 exemplaren gesigneerd door de auteur, 34p. 13,5:20 cm. Halflinnen, oblong. Omslag licht verkleurd. Uit het vroegere bezit van Hans van Straaten, met diens signatuur en ex-libris.
Read more