Alberto Moravia / Claudia Cardinale. Claudia Cardinale Dialogo e fotografie.
Fotografie di Blanche Cardinale, Federico Garolla, Pierluigi Praturlon, Chiara Samugheo e Tazio Secchiaroli. 2003 Milano, Photology, limited edition signed by Claudia Cardinale, one of 999 copies, 18:21,5 cm. Ring binding. In original holder with transparant front.
Gerelateerd
Verkocht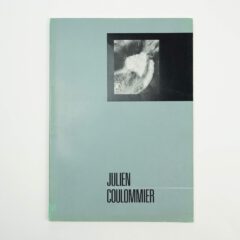 Julien Coulommier. Fotograaf.
[:nl]Met teksten van Pool Andries, Marcel Broodthaers en Julien Coulommier.
1989 Brussel, Museumfonds van het Ministerie van de Vlaamse Gemeenschap, 29,5:21 cm. Ingenaaid.
Minimale knikjes in de rug. Met opdracht aan Adolf Merckx, journalist en initiatiefnemer van Celbeton:
"Aan Adolf Merckx/ Met al mijn sympathie/ Julien Coulommier/ 1991"[:]
€

25,00
Read more