View cart
"Jeroen Brouwers. Joris Ockeloen en het wachten. Een lotgeval." has been added to your cart.
Gustave Flaubert. Bibliomanie.
€28,00
Vertaald en van een nawoord voorzien door Vertaal-kollektief Cassiopeia. Met illustraties van Kurt Löb. 1982 Gorinchem, De Mandarijn, één van de 200 genummerde en door Kurt Löb gesigneerde luxe-exemplaren, 54p. Linnen met omslag. Roestvlekjes aan de bovenkant van het boekblok.
Out of stock
Gerelateerd
Verkocht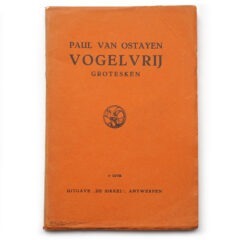 Paul Van Ostaijen. Vogelvrij. Grotesken.
1928 Antwerpen, De Sikkel, 'tweede uitgave', feitelijk het boekblok van de eerste uitgave met een nieuwe titelpagina en ander omslag. De eerste uitgave verscheen bij uitgeverij In 1928 bij uitgeverij De Witte Raaf. Na de opheffing van De Witte Raaf kocht De Sikkel de resterende exemplaren van Vogelvrij en bracht ze in deze vorm weer in de handel. 147p. 21,5:14,5 cm. Ingenaaid. Knikje aan de bovenzijde van het boekblok.
Read more