View cart
"Asger Jorn. Catalogue Galerie Taptoe." has been added to your cart.
Michel Seuphor. Lumière sur Lumière.
€500,00
1991 Gent, De Prentenier, oplage 25 genummerde en gesigneerde exemplaren. Enkele teksten van Seuphor uit 'Le benefice du jour (1990) met twee tekeningen van Seuphor uitgevoerd in zeefdruk, waarvan de eerste met twee collage elementen uit gekleurd papier, gesigneerd.
39,5:29 cm. Linnen met leeslint en papieren omslag.
In stock
Gerelateerd
Verkocht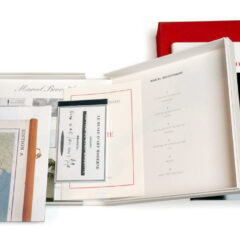 Marcel Broodthaers. Tinaia 9 Box.
1994 Köln, Tinaia 9, box with 'Le poids d'une oeuvre d'art' (monograph by Wilfried Dickhoff), 'Carte du monde poétique' (Poster), '…Modèle: Ceci n'est pas une pipe' (facsimile), 'Interviews with Freddy de Vree' (cd), 'Projets' (Book Project), 'Magie. Art et Politique' (artistbook in reprint).
Complete in original box with red slipcase. 32,5:31 cm.
Read more