View cart
"Marcel Broodthaers. Phantomas." has been added to your cart.
Sinteze.
Tijdschrift. Nummer één tot en met vier (compleet). Redactie: Jef Andriessen, Bob Bern, Francis de Preter, Gil van der Heyden en Leon van Essche. 1960 Antwerpen. Lino omslag: Leon van Essche. Met naast bijdragen van de redactie-leden, werk van o.a. Rik Doyen, Vic Gentils, Serge Largod, Tony Rombouts, Erwin Vogels, Freddy de Vree, Paul de Vree en Wim Zaal.
Gerelateerd
Verkocht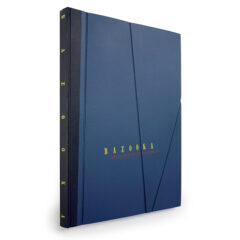 Bazooka. 31 publications of the Bazooka group. 1976-1978.
[:nl]31 publications of the Bazooka group, a French graphic punk artist collective formed by Kiki and Loulou Picasso, Bernard Vidal, Olivia Clavel, Lulu Larsen, and Jean Rouzaud. Collected by a Dutch connoisseur in private binding by Pau Groenendijk. 44,5:32 cm.
Un regard moderne no 1 – 5 (1978 Libération)
4 Bazooka inserts from 'Métal Hurlant' magazine (late seventies)
Les animaux malades no 1 – 5 / 7 – 12 (1977)
Bulletin périodique no. 1-7 (1976-1978)
Orphelina Orphanage Graphique no. 1-4 (1978)
[:]
Read more