Stefan Themerson. Wooff Wooff or Who Killed Richard Wagner?
€70,00
1951 London, Gaberbocchus Press, first edition, 19:12,5 cm. Original binding with wrappers (somewhat soiled). With drawings by Franciszka Themerson.
In stock
Gerelateerd
Verkocht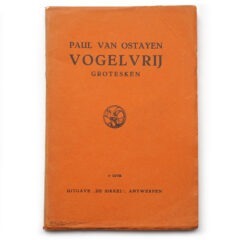 Paul Van Ostaijen. Vogelvrij. Grotesken.
1928 Antwerpen, De Sikkel, 'tweede uitgave', feitelijk het boekblok van de eerste uitgave met een nieuwe titelpagina en ander omslag. De eerste uitgave verscheen bij uitgeverij In 1928 bij uitgeverij De Witte Raaf. Na de opheffing van De Witte Raaf kocht De Sikkel de resterende exemplaren van Vogelvrij en bracht ze in deze vorm weer in de handel. 147p. 21,5:14,5 cm. Ingenaaid. Knikje aan de bovenzijde van het boekblok.
Read more