Tinguely / Pontus Hultén. "Méta".
1973 Paris, Pierre Horay, 363p. 31:22 cm.
Catalogue in suitcase cover, with carrying handle and suitcase lock. French edition including an original machine drawing from 'Meta-Matic No. 6' in green, pink, yellow, and blue, signed in pencil by Tinguely, and a 33 1/3 rpm record with "Méta" sounds.
The ultimate suitcase edition!
Gerelateerd
Verkocht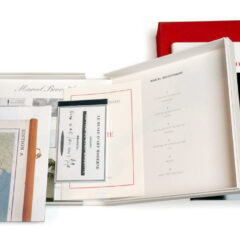 Marcel Broodthaers. Tinaia 9 Box.
1994 Köln, Tinaia 9, box with 'Le poids d'une oeuvre d'art' (monograph by Wilfried Dickhoff), 'Carte du monde poétique' (Poster), '…Modèle: Ceci n'est pas une pipe' (facsimile), 'Interviews with Freddy de Vree' (cd), 'Projets' (Book Project), 'Magie. Art et Politique' (artistbook in reprint).
Complete in original box with red slipcase. 32,5:31 cm.
Read more