Spoken word and literary experiments on audio carriers.
View cart
"Uitgesproken. Deus Ex Machina #141." has been added to your cart.
Verkocht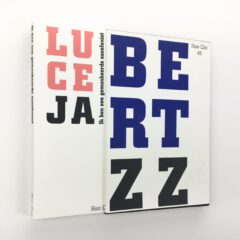 Lucebert. Ik ben een gemankeerde saxofonist. Lucebert & jazz.
Redactie Ben IJpma en Ben van Melick. Met bijdragen van: Han Bennink, J. Bernlef, Pieter Boersma, Michiel Braam, Igor Cornelissen, Gillis Dorleijn, Jan van Gilst, Jaap Harten, Oleg Hollmann, Sipke Huismans, Ben IJpma, Coen de Jonge, Leo Klatser, Gerrit Kouwenaar, Rob Langereis, Joost Lijbaart, Lucebert, Misha Mengelberg, Piet Noordijk, Giny Oedekerk, Tony Overwater, Bart van der Putten, Johanneke van Slooten, Arie Teunissen, Angelo Verploegen, Bert Vuijsje en Wolter Wierbos. 2013 Rimburg / Amsterdam, Uitgeverij Huis Clos, eerste druk, 175p. 24:16p. Ingenaaid, open binding met achterflap, in originele papieren schuifdoos. Vormgeving: Piet Gerards. Compleet met twee cd's.
Read more