View cart
"C.C. Krijgelmans / Pjeroo Roobjee. Tegen een bizarre achtergrond van algemeen verderf." has been added to your cart.
A.L. Snijders. Trams.
€20,00
Met illustraties van Eric J. Coolen. 2016 Haarlem, Brederode Pers, eerste druk, oplage 100 exemplaren, 8p. 16:15,5 cm. Cahiersteek. Gesigneerd door de auteur.
Out of stock
Gerelateerd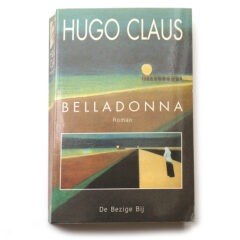 Hugo Claus. Belladonna.
Scènes uit het leven in de provincie. Roman. 1994 Amsterdam, De Bezige Bij, eerste druk, 350p. 21:13,5 cm. Ingenaaid. Exemplaar met leesvouwen en licht verkleurd boekblok.
Uit het vroegere bezit van Simon Vinkenoog, met opdracht:
"deze Roman/ voor Simon/ zoals altijd/ uit ganser harte/ Hugo"
€

50,00
Add to cart