View cart
"Gerrit Achterberg / H.N. Werkman. Meisje." has been added to your cart.
A.L. Snijders. Trams.
€20,00
Met illustraties van Eric J. Coolen. 2016 Haarlem, Brederode Pers, eerste druk, oplage 100 exemplaren, 8p. 16:15,5 cm. Cahiersteek. Gesigneerd door de auteur.
Out of stock
Gerelateerd
Verkocht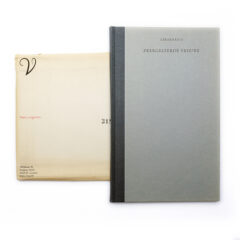 Gerard Reve. Zeergeleerde vrouwe.
1982 Utrecht, Veen, eerste druk, oplage 300 genummerde en gesigneerde exemplaren (dit is het nummer 318…), niet in de handel, 14p. 20,5:13 cm. Halflinnen.
In originele envelop van de uitgeverij. De envelop is verkleurd en heeft enkele scheurtjes. Het boekje is in perfecte conditie.
Read more