View cart
"Rudy Kousbroek. Begrafenis van een keerkring. gevolgd door eight love-poems." has been added to your cart.
A.L. Snijders. Trams.
€20,00
Met illustraties van Eric J. Coolen. 2016 Haarlem, Brederode Pers, eerste druk, oplage 100 exemplaren, 8p. 16:15,5 cm. Cahiersteek. Gesigneerd door de auteur.
Out of stock
Gerelateerd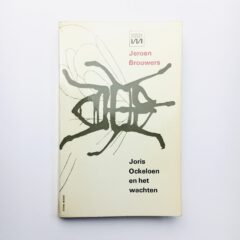 Jeroen Brouwers. Joris Ockeloen en het wachten. Een lotgeval.
[:nl]1967 Brussel/ Den Haag, Manteau, eerste druk, 176p. 20:12,5 cm. Garenloos. Met opdracht aan collega-schrijver Nico Wijnen (1916-1989): "voor Nico Wijnen/ met een hart vol sympathie/ & ter herinnering aan onze/ eerste ontmoeting in Den Haag/ op 13 mei 1968./ Jeroen Brouwers./ Brussel. 5/7/68". (Dertien mei 1968 was de dag waarop de Vijverbergprijs voor 'Joris Ockeloen en het wachten' werd uitgereikt.)[:]
€

80,00
Add to cart