Alberto Moravia / Claudia Cardinale. Claudia Cardinale Dialogo e fotografie.
Fotografie di Blanche Cardinale, Federico Garolla, Pierluigi Praturlon, Chiara Samugheo e Tazio Secchiaroli. 2003 Milano, Photology, limited edition signed by Claudia Cardinale, one of 999 copies, 18:21,5 cm. Ring binding. In original holder with transparant front.
Gerelateerd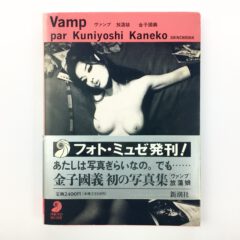 Kuniyoshi Kaneko. Vamp.
Text in Japanese and French. 1994 Shinchosha, Photo Musée, 20:15 cm. Original binding, with silver publicity wrapper. Spine somewhat discolored.
€

60,00
Add to cart