View cart
"Camiel van Breedam. Livresse." has been added to your cart.
Alberto Moravia / Claudia Cardinale. Claudia Cardinale Dialogo e fotografie.
Fotografie di Blanche Cardinale, Federico Garolla, Pierluigi Praturlon, Chiara Samugheo e Tazio Secchiaroli. 2003 Milano, Photology, limited edition signed by Claudia Cardinale, one of 999 copies, 18:21,5 cm. Ring binding. In original holder with transparant front.
Gerelateerd
Verkocht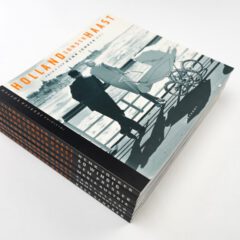 Holland zonder haast.
[:nl]Reeks van zeven fotoboeken. 1998-2004 Antwerpen, Uitgeverij Voetnoot, 22:24 cm. Ingenaaid. Vormgeving Barends en Pijnappel. Complete reeks:
Deel 1: Henk Jonker. 75 foto's met een inleiding van Jessica Voeten.
Deel 2: Ad Windig. 77 foto's met een inleiding van Nelleke Noordervliet.
Deel 3: Sem Presser. 81 foto's met een inleiding van Michaël Zeeman.
Deel 4: Maria Austria. 90 foto's met een inleiding van Judith Herzberg.
Deel 5: Carel Blazer. 75 foto's met een inleiding van Jan Brokken.
Deel 6: Emmy Andriesse. 75 foto's met een inleiding van Helga Ruebsamen.
Deel 7: Kees Scherer. 77 foto's met een inleiding van Jessica Voeten.[:]
€

150,00
Read more