View cart
"Hugo Claus. Belladonna." has been added to your cart.
Cees Buddingh'. De Laarzen der Mohikanen of Niet goed, geld terug.
Gedichten. 1941 Dordrecht, De Semaphore Pers, eerste druk, oplage 270 genummerde exemplaren, dit is één van de eerste 120 exemplaren gesigneerd door de auteur, 34p. 13,5:20 cm. Halflinnen, oblong. Omslag licht verkleurd. Uit het vroegere bezit van Hans van Straaten, met diens signatuur en ex-libris.
Gerelateerd
Verkocht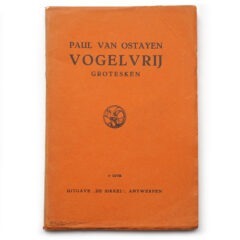 Paul Van Ostaijen. Vogelvrij. Grotesken.
1928 Antwerpen, De Sikkel, 'tweede uitgave', feitelijk het boekblok van de eerste uitgave met een nieuwe titelpagina en ander omslag. De eerste uitgave verscheen bij uitgeverij In 1928 bij uitgeverij De Witte Raaf. Na de opheffing van De Witte Raaf kocht De Sikkel de resterende exemplaren van Vogelvrij en bracht ze in deze vorm weer in de handel. 147p. 21,5:14,5 cm. Ingenaaid. Knikje aan de bovenzijde van het boekblok.
Read more