View cart
"Gust Gils (als Konservator van het Muzeum voor Kleine Kurioziteiten). Rapporten uit het Muzeum voor Kleine Kurioziteiten. Rapport 1." has been added to your cart.
Julien Coulommier. Fotograaf.
€25,00
Met teksten van Pool Andries, Marcel Broodthaers en Julien Coulommier.
1989 Brussel, Museumfonds van het Ministerie van de Vlaamse Gemeenschap, 29,5:21 cm. Ingenaaid.
Minimale knikjes in de rug. Met opdracht aan Adolf Merckx, journalist en initiatiefnemer van Celbeton:
"Aan Adolf Merckx/ Met al mijn sympathie/ Julien Coulommier/ 1991"
Out of stock
Gerelateerd
Verkocht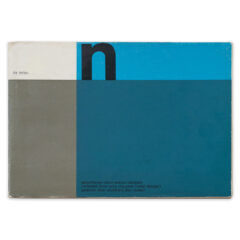 Remco Campert / Wim Crouwel. De letter N.
Gedicht van Remco Campert grafisch verbeeld door Wim Crouwel. 1967 Amsterdam, Drukkerij Den Ouden, nieuwjaarsgeschenk, niet in de handel. In verschillende kleuren gedrukt en gebonden als blokboek. 26p. 15:20,5 cm. Omslag met lichte gebruikssporen.
Door Campert gesigneerd in potlood op de binnenflap van het omslag.
Read more