View cart
"Holland zonder haast." has been added to your cart.
Julien Coulommier. Fotograaf.
€25,00
Met teksten van Pool Andries, Marcel Broodthaers en Julien Coulommier.
1989 Brussel, Museumfonds van het Ministerie van de Vlaamse Gemeenschap, 29,5:21 cm. Ingenaaid.
Minimale knikjes in de rug. Met opdracht aan Adolf Merckx, journalist en initiatiefnemer van Celbeton:
"Aan Adolf Merckx/ Met al mijn sympathie/ Julien Coulommier/ 1991"
Out of stock
Gerelateerd
Verkocht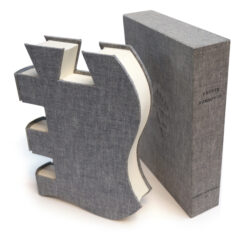 Droste-Rombouts (Monika Droste et Guy Rombouts). Inventaire.
1991 Bruxelles, La Galerie Camille von Scholz, Editions Camille von numérotés et signés, un des 6 original, découpé numéroté et signé.
Un livre blanco relié en forme du mot 'Book' en Azart (un alphabet développé par Monika Droste et Guy Rombouts). La page de la justification de tirage sur une feuille insérée.
25:18cm.
Read more