View cart
"John Weerdts. Zeehond. Negen teksten van John Weerdts met zeven tekeningen van Ysbrant." has been added to your cart.
Julien Coulommier. Fotograaf.
€25,00
Met teksten van Pool Andries, Marcel Broodthaers en Julien Coulommier.
1989 Brussel, Museumfonds van het Ministerie van de Vlaamse Gemeenschap, 29,5:21 cm. Ingenaaid.
Minimale knikjes in de rug. Met opdracht aan Adolf Merckx, journalist en initiatiefnemer van Celbeton:
"Aan Adolf Merckx/ Met al mijn sympathie/ Julien Coulommier/ 1991"
Out of stock
Gerelateerd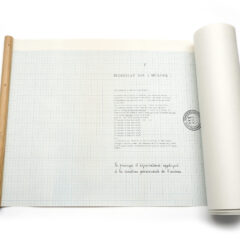 Robert Filliou. Erforschung des Ursprungs (Recherche sur I'Origine).
1974 Düsseldorf, Städtischen Kunsthalle, multiple, Auflage 400 exemplare. Bedruckte papierbahn in einer Rolle (30:950 cm.).
Mit Beiheft. 27p. 15: 10,5 cm. Wasserschaden. Nicht signiert von Filliou, stattdessen mit Widmung (Wasserfleckig aber lesbar) von Daniel Spoerri:
"Robert est mon/ grandfrère,/ mais moi je suis sa/ mêre,/ vous trouvez pas/ que ca complique/ les choses
assez?/ Salute Freddy/ Daniel Spoerri/ 18 okt 74"
€

600,00
Add to cart