View cart
"Jeroen Olyslaegers / Alexandra Crouwers. Gij, Wildeman." has been added to your cart.
Julien Coulommier. Fotograaf.
€25,00
Met teksten van Pool Andries, Marcel Broodthaers en Julien Coulommier.
1989 Brussel, Museumfonds van het Ministerie van de Vlaamse Gemeenschap, 29,5:21 cm. Ingenaaid.
Minimale knikjes in de rug. Met opdracht aan Adolf Merckx, journalist en initiatiefnemer van Celbeton:
"Aan Adolf Merckx/ Met al mijn sympathie/ Julien Coulommier/ 1991"
Out of stock
Gerelateerd
Verkocht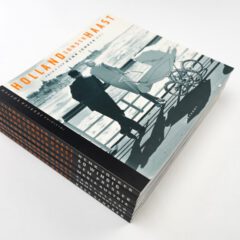 Holland zonder haast.
[:nl]Reeks van zeven fotoboeken. 1998-2004 Antwerpen, Uitgeverij Voetnoot, 22:24 cm. Ingenaaid. Vormgeving Barends en Pijnappel. Complete reeks:
Deel 1: Henk Jonker. 75 foto's met een inleiding van Jessica Voeten.
Deel 2: Ad Windig. 77 foto's met een inleiding van Nelleke Noordervliet.
Deel 3: Sem Presser. 81 foto's met een inleiding van Michaël Zeeman.
Deel 4: Maria Austria. 90 foto's met een inleiding van Judith Herzberg.
Deel 5: Carel Blazer. 75 foto's met een inleiding van Jan Brokken.
Deel 6: Emmy Andriesse. 75 foto's met een inleiding van Helga Ruebsamen.
Deel 7: Kees Scherer. 77 foto's met een inleiding van Jessica Voeten.[:]
€

150,00
Read more