View cart
"Jeroen Brouwers. Het hout." has been added to your cart.
Julien Weverbergh. Gilgamesj herschrijven.
1967 Aalst, Uitgeverij Ten Berg, eerste druk, oplage 74 genummerde en gesigneerde exemplaren, met een pagina origineel handschrift, één van de 24 geletterde exemplaren. 136p. 25:19,5 cm. Garenloos. Fris exemplaar.
Gerelateerd
Verkocht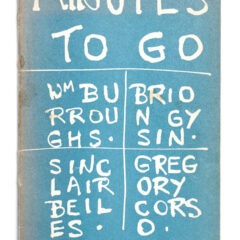 Sinclair Beiles / William Burroughs / Gregory Corso / Brion Gysin. Minutes to go.
1960 Paris, Two Cities Editions, first edition, 63p. 21:13,5 cm.
Spine with small imperfections and discolouration. Provenance: collection Simon Vinkenoog.
Signed by Beiles, Burroughs and Corso and with two handwritten remarks by Burroughs: Under 'Open Letter to Life Magazine' (page 12) he wrote "by Sinclair Beiles", and to his Cut-up text 'Mao Tze' (page 20) he added to the line '(fight fight talk talk… talk talk fight fight)': "Fighting produces fighting./The response to talk/ is talk."
Read more