Michel Seuphor. Lumière sur Lumière.
€500,00
1991 Gent, De Prentenier, oplage 25 genummerde en gesigneerde exemplaren. Enkele teksten van Seuphor uit 'Le benefice du jour (1990) met twee tekeningen van Seuphor uitgevoerd in zeefdruk, waarvan de eerste met twee collage elementen uit gekleurd papier, gesigneerd.
39,5:29 cm. Linnen met leeslint en papieren omslag.
In stock
Gerelateerd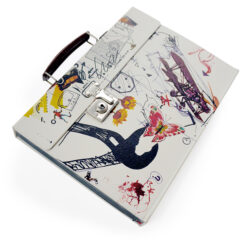 Tinguely / Pontus Hultén. "Méta".
[:nl]1973 Paris, Pierre Horay, 363p. 31:22 cm.
Catalogue in suitcase cover, with carrying handle and suitcase lock. French edition including an original machine drawing from 'Meta-Matic No. 6' in green, pink, yellow, and blue, signed in pencil by Tinguely, and a 33 1/3 rpm record with "Méta" sounds.
The ultimate suitcase edition![:]
€

1.000,00
Add to cart