View cart
"Jeroen Brouwers. Joris Ockeloen en het wachten. Een lotgeval." has been added to your cart.
Stefan Themerson. Wooff Wooff or Who Killed Richard Wagner?
€70,00
1951 London, Gaberbocchus Press, first edition, 19:12,5 cm. Original binding with wrappers (somewhat soiled). With drawings by Franciszka Themerson.
In stock
Gerelateerd
Verkocht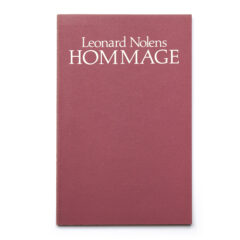 Leonard Nolens. Hommage.
1981 Antwerpen / Amsterdam, Elsevier Manteau, eerste druk, 60p. 21,5:13,5 cm. Garenloos. Met opdracht aan Fernand Auwera:
"Voor Fernand,/ van wie ik gisteren een stuk las/ over angst, over zijn angst van mij -/ op deze 29.X.81,/ Leon./ 'Chaque être crie en silence/ pour être lu autrement.'/ Simone Weil"
Read more