View cart
"Hugo Claus. Jan de Lichte. Gedichtencyclus met een originele lithografie van Roel D'Haese." has been added to your cart.
Stefan Themerson. Wooff Wooff or Who Killed Richard Wagner?
€70,00
1951 London, Gaberbocchus Press, first edition, 19:12,5 cm. Original binding with wrappers (somewhat soiled). With drawings by Franciszka Themerson.
In stock
Gerelateerd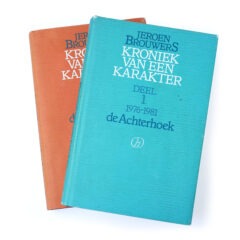 Jeroen Brouwers. Kroniek van een karakter.
Deel 1. 1976-1981. De Achterhoek. / Deel 2. 1982-1986. De oude Faust.
1987 Schoten Hadewijch eerste druk 399 / 445p. 23,5:16 cm. garenloos, gekartonneerd met omslagen.
Met inscripties op de titelpagina's:
"Ik heb een hekel aan brievenbundelingen/ (blz. 7)/ Jeroen Brouwers"
"Waar gaan mijn brieven dan over?/ (deel 1, blz. 9)/ Jeroen Brouwers"
€

125,00
Add to cart