View cart
"Mon Meerts / Gust Gils. Drie bagatellen in gebiedende wijs. Met illustraties van Gust Gils." has been added to your cart.
Stefan Themerson. Wooff Wooff or Who Killed Richard Wagner?
€70,00
1951 London, Gaberbocchus Press, first edition, 19:12,5 cm. Original binding with wrappers (somewhat soiled). With drawings by Franciszka Themerson.
In stock
Gerelateerd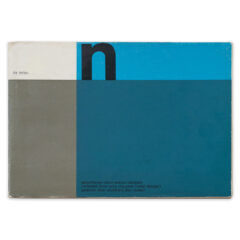 Remco Campert / Wim Crouwel. De letter N.
Gedicht van Remco Campert grafisch verbeeld door Wim Crouwel. 1967 Amsterdam, Drukkerij Den Ouden, nieuwjaarsgeschenk, niet in de handel. In verschillende kleuren gedrukt en gebonden als blokboek. 26p. 15:20,5 cm. Omslag met lichte gebruikssporen.
Door Campert gesigneerd in potlood op de binnenflap van het omslag.
€

300,00
Add to cart