Cees Buddingh'. De Laarzen der Mohikanen of Niet goed, geld terug.
Gedichten. 1941 Dordrecht, De Semaphore Pers, eerste druk, oplage 270 genummerde exemplaren, dit is één van de eerste 120 exemplaren gesigneerd door de auteur, 34p. 13,5:20 cm. Halflinnen, oblong. Omslag licht verkleurd. Uit het vroegere bezit van Hans van Straaten, met diens signatuur en ex-libris.
Gerelateerd
Verkocht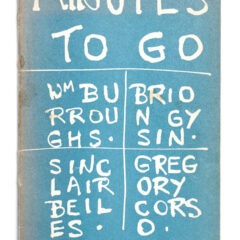 Sinclair Beiles / William Burroughs / Gregory Corso / Brion Gysin. Minutes to go.
1960 Paris, Two Cities Editions, first edition, 63p. 21:13,5 cm.
Spine with small imperfections and discolouration. Provenance: collection Simon Vinkenoog.
Signed by Beiles, Burroughs and Corso and with two handwritten remarks by Burroughs: Under 'Open Letter to Life Magazine' (page 12) he wrote "by Sinclair Beiles", and to his Cut-up text 'Mao Tze' (page 20) he added to the line '(fight fight talk talk… talk talk fight fight)': "Fighting produces fighting./The response to talk/ is talk."
Read more