Kuniyoshi Kaneko. Vamp.
€60,00
Text in Japanese and French. 1994 Shinchosha, Photo Musée, 20:15 cm. Original binding, with silver publicity wrapper. Spine somewhat discolored.
In stock
Gerelateerd
Verkocht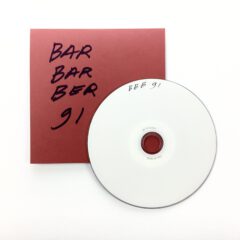 K. Schippers. Trailers. Barbarber nummer 91.
Onder de titel 'Trailers' monteerde de Barbarber redactie in 1967 een groot aantal Hollywood filmtrailers achter elkaar. In 2001 werd deze montage gecompileerd als Barbarber nummer 91. Het nummer verscheen in 2004 in één exemplaar op videoband als cadeau voor uitgever Reinold Kuipers. Ter gelegenheid van de finissage van De Barbarber Tentoonstellingen bij Demian verscheen begin 2019 voor een select aantal liefhebbers het nummer 91 in een éénmalige oplage van 19 exemplaren op dvd met handgeschreven omslag door K. Schippers.
2019 Antwerpen, Demian, oplage 19 exemplaren, 'casing' Jelle Jespers.
Read more