View cart
"Leonard Nolens. Dagboek van een dichter 1979-2007." has been added to your cart.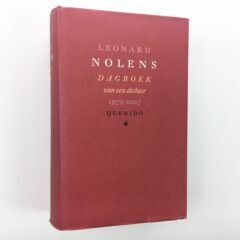 Leonard Nolens. Dagboek van een dichter 1979-2007.
2009 Amsterdam/ Antwerpen, Querido, eerste druk, 1.056p. 22:14 cm. Linnen met omslag. Deukje rechtsboven aan de achterzijde van het boekblok. Met opdracht aan Jef Lambrechts en zijn vrouw:
"Art makes Life./ (J. Conrad)/ Voor jullie, Jef en Ariane,/ van/ Leon/ Berchem, 12 X 09."
Bijgevoegd: kladschrift van een bedankbrief van Lambrechts aan Nolens:
"Het was Sinterklaas/ verkleed als de postbode die me van de pot belde enkele dagen geleden met/ je boek. Een heerlijk soort boek, om te beginnen, dat niet dwingend is/ en zich laat lezen naar goeddunken, een betere druivelaar, als ik zo oneerbiedig/ mag zijn, opgehoogd met je prachtige handschrift/ het curieuze devies 'Art makes life'./ Wellicht wegens teveel aan vrije tijd zocht ik op het internet naar deze uitspraak/ en vond niet Joseph Conrad als auteur maar Max Eastman"
"Precies dezelfde uitspraak werd elders toegeschreven aan Henry James./ Ik vrees dat dit meer zegt over het internet dan over u."
€

45,00
Add to cart
Verkocht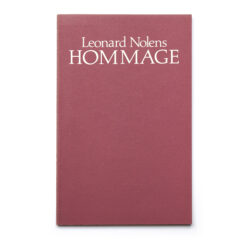 Leonard Nolens. Hommage.
1981 Antwerpen / Amsterdam, Elsevier Manteau, eerste druk, 60p. 21,5:13,5 cm. Garenloos. Met opdracht aan Fernand Auwera:
"Voor Fernand,/ van wie ik gisteren een stuk las/ over angst, over zijn angst van mij -/ op deze 29.X.81,/ Leon./ 'Chaque être crie en silence/ pour être lu autrement.'/ Simone Weil"
Read more