Remco Campert / Ysbrant. Zeventien schetsen voor Ysbrant. Gedichten met vijf zeefdrukken van Ysbrant.
€200,00
1996 Antwerpen, Revolver, eerste druk, oplage 380 exemplaren 25,5:20 cm. Garenloos.
Gesigneerd door Remco Campert en Ysbrant.
In stock
Gerelateerd
Verkocht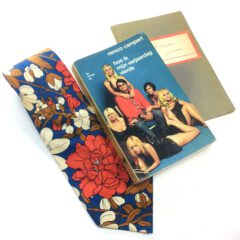 Remco Campert. Verjaardagsdas.
[:nl]Originele stropdas die Remco Campert draagt op de iconische omslagfoto van de verhalenbundel 'Hoe ik mijn verjaardag vierde' (De Bezige Bij 1969).
De 'flashy' das heeft het label van 'John Stephen, Carnaby Street'. Stephen was één van de belangrijkste mode-ontwerpers uit de 'Swinging London' periode, bekend van zijn flamboyante herenmode-accessoires met kleurige bloemmotieven. The Beatles en The Rolling Stones lieten zich ook al eens door hem kleden.
Camperts verjaardagsdas werd eind jaren zestig in de hippe Carnaby Street gekocht door zijn geliefde Deborah Wolf.[:]
Read more