Freddy de Vree. WFH met olifanten. Originele kleurendia's.
€600,00
Antwerpen 3 maart 1973. Twee originele kleurendia's, Quarter-size Minolta 16, door Freddy de Vree. Willem Frederik Hermans in de Antwerpse zoo. 5:5 cm.
Bijgevoegd: Twee kleurenfoto's van de geprojecteerde dia's. 13:9 cm.
In stock
Gerelateerd
Verkocht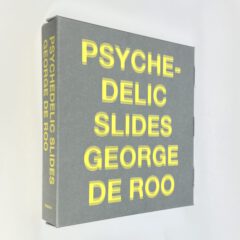 George De Roo. Psychedelic slides.
[:nl]Edited by René Franken. 2022 Antwerp, Demian, published on the occasion of the exhibition of the psychedelic work by George De Roo at Demian Books, March 2022, limited to 25 numbered copies and five lettered copies (hors commerce).
Each copy consists of reproductions of original artwork and documents (in offset, photo print, silkscreen and riso print) from the archive of George De Roo (collection Demian), a complete reprint of Captain Acid, a text on Destruction In Art Symposion by Nico Dockx, and 8 original psychedelic slides made by George De Roo in 1967-1968. Different sizes of paper in archive box with ring binder. 32,5:31:5,5 cm.
Graphic Design: Jelle Jespers.[:]
Read more