Carel Willink. De schilderkunst in een kritiek stadium.
€30,00
1981 Amsterdam, Peter van der Velden. 101p. 20,5:13 cm. Linnen band met stofomslag. Gesigneerd en gedateerd 30.5.'81. Mooi exemplaar.
In stock
Gerelateerd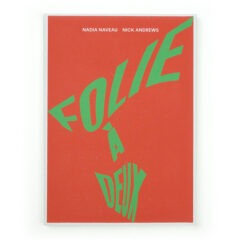 Nick Andrews / Nadia Naveau. Folie à deux.
Een bibliofiele uitgave van Demian en De Vrienden van De Zwarte Panter.
De editie bestaat uit een aquarel van Nick Andrews, een collage object en een cut-out van Nadia Naveau en twee leporello's met werk gemaakt tijdens een recente reis naar Mexico. Nick Andrews' tekst The Ballad of Nick & Nadia completeert dit sprankelende reisverslag.
Het geheel is gevat in een luxe linnen overslagmap (gesloten formaat 26:18,5 cm.) vormgegeven door Jelle Jespers. De oplage is 40 genummerde en gesigneerde exemplaren, waarvan er 30 voor de handel zijn bestemd.
€

450,00
Add to cart