View cart
"Gust Gils (als Konservator van het Muzeum voor Kleine Kurioziteiten). Rapporten uit het Muzeum voor Kleine Kurioziteiten. Rapport 1." has been added to your cart.
Happening News. Nummer 1.
1965 Antwerpen, eigen beheer. 30:21 cm. Geniet met origineel plastic omslag.
Gerelateerd
Verkocht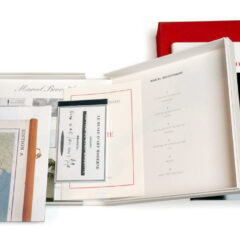 Marcel Broodthaers. Tinaia 9 Box.
1994 Köln, Tinaia 9, box with 'Le poids d'une oeuvre d'art' (monograph by Wilfried Dickhoff), 'Carte du monde poétique' (Poster), '…Modèle: Ceci n'est pas une pipe' (facsimile), 'Interviews with Freddy de Vree' (cd), 'Projets' (Book Project), 'Magie. Art et Politique' (artistbook in reprint).
Complete in original box with red slipcase. 32,5:31 cm.
Read more