Freddy de Vree. Hubert Decleer.
€60,00
1963 Sint-Niklaas, Paradox-Press, eerste druk, oplage 80 genummerde exemplaren, 22:17 cm. Met omslag van Ribkarton. Met twee drukken op Japans papier en twee reproducties van écritures. Franse tekst. Omslag licht beschadigd.
Over het werk van Frans Neels.
In stock
Gerelateerd
Verkocht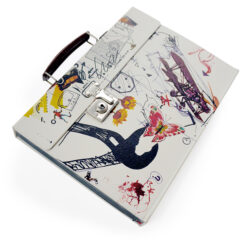 Tinguely / Pontus Hultén. "Méta".
[:nl]1973 Paris, Pierre Horay, 363p. 31:22 cm.
Catalogue in suitcase cover, with carrying handle and suitcase lock. French edition including an original machine drawing from 'Meta-Matic No. 6' in green, pink, yellow, and blue, signed in pencil by Tinguely, and a 33 1/3 rpm record with "Méta" sounds.
The ultimate suitcase edition![:]
Read more