Anselm Kiefer. Hoffmann von Fallersleben auf Helgoland.
€350,00
1980 Groningen, Groninger Museum, First edition, 500 copies, 30:21,5 cm. Original binding.
In stock
Gerelateerd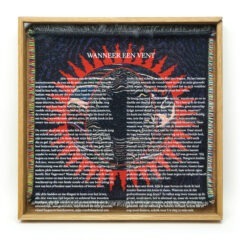 Jeroen Olyslaegers / Alexandra Crouwers. Gij, Wildeman.
Bibliofiele voorpublicatie van het eerste hoofdstuk uit Jeroen Olyslaegers' roman Wildevrouw (2020 uitgeverij De Bezige Bij) in vroege versie, met een werk van Alexandra Crouwers.
Deze eenmalige uitgave verscheen 15 december 2019 ter gelegenheid van Alexandra Crouwers' tentoonstelling The Three Motions of Loom in het Antwerp Art Pavilion.
Alexandra Crouwers vertrok van twee fragmenten uit 'Wildevrouw'. De roman speelt zich af in het Antwerpen van de 16e eeuw. Crouwers dook in de 16e-eeuwse beeldcultuur en produceerde samen met het Textielmuseum in Tilburg drie monumentale geweven wandkleden (afmetingen: 1.60m:2.95m.).
Voor de editie Gij, Wildeman realiseerde de kunstenaar een vierde weefwerk uitgevoerd in dubbelzijdige weeftechniek (afmetingen: 34:34 cm.) dat hier langs beide zijden is afgebeeld.
De editie is gevat in een eikenhouten doos (afmetingen: 36:36:4 cm.) met glazen schuifdeksel. De tekst van Jeroen Olyslaegers is deels in zeefdruk aangebracht op het glas en het hout en vormt een hechte eenheid met het weefwerk.
De oplage bestaat uit 35 genummerde en gesigneerde exemplaren, waarvan er 25 voor de handel zijn bestemd.
€

500,00
Add to basket