Leon Van Essche. Catalogus tentoonstelling ICC.
€25,00
1981 Antwerpen ICC, catalogus nummer 206 24p.
Met losbladige reproducties in kartonnen map. 30,5:22 cm.
In stock
Gerelateerd
Verkocht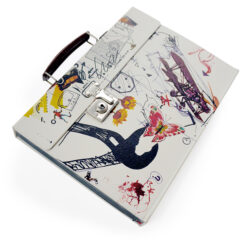 Tinguely / Pontus Hultén. "Méta".
[:nl]1973 Paris, Pierre Horay, 363p. 31:22 cm.
Catalogue in suitcase cover, with carrying handle and suitcase lock. French edition including an original machine drawing from 'Meta-Matic No. 6' in green, pink, yellow, and blue, signed in pencil by Tinguely, and a 33 1/3 rpm record with "Méta" sounds.
The ultimate suitcase edition![:]
Read more