Jan Peeters / Floris Jespers. Kinderlust.
1923 Antwerpen, Reclam, 24p. en 12 pagina's volblad illustraties en een omslag van Floris Jespers, 23:30,5 cm. Lijmsporen aan de onderzijde van de rug, maar afgezien daarvan een bijzonder fris exemplaar. Voor een kinderboek, ongewoon in deze mooie staat!
Gerelateerd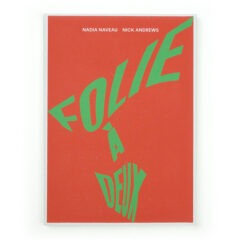 Nick Andrews / Nadia Naveau. Folie à deux.
Een bibliofiele uitgave van Demian en De Vrienden van De Zwarte Panter.
De editie bestaat uit een aquarel van Nick Andrews, een collage object en een cut-out van Nadia Naveau en twee leporello's met werk gemaakt tijdens een recente reis naar Mexico. Nick Andrews' tekst The Ballad of Nick & Nadia completeert dit sprankelende reisverslag.
Het geheel is gevat in een luxe linnen overslagmap (gesloten formaat 26:18,5 cm.) vormgegeven door Jelle Jespers. De oplage is 40 genummerde en gesigneerde exemplaren, waarvan er 30 voor de handel zijn bestemd.
€

450,00
Add to cart