Marcel van Maele. m.v.m.
€125,00
Catalogus met een inleiding van Willem Elias ('De geboekstaafde claustrofobieën van Marcel van Maele').
1994 Asse, Galerij De Ziener, oplage 200 genummerde en gemonogrammeerde exemplaren. Met een witgeschilderd omslag, gemonogrammeerd op de voorzijde en genummerd op de achterzijde. 22p. 42:30 cm. dubbele cahiersteek.
Een catalogus-object van formaat.
In stock
Gerelateerd
Verkocht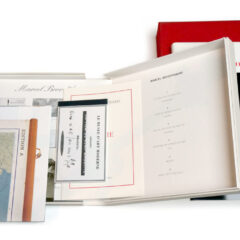 Marcel Broodthaers. Tinaia 9 Box.
1994 Köln, Tinaia 9, box with 'Le poids d'une oeuvre d'art' (monograph by Wilfried Dickhoff), 'Carte du monde poétique' (Poster), '…Modèle: Ceci n'est pas une pipe' (facsimile), 'Interviews with Freddy de Vree' (cd), 'Projets' (Book Project), 'Magie. Art et Politique' (artistbook in reprint).
Complete in original box with red slipcase. 32,5:31 cm.
Read more