View cart
"Nick Andrews / Jeroen Olyslaegers. Wandering Eye" has been added to your cart.
Marcel van Maele. m.v.m.
€125,00
Catalogus met een inleiding van Willem Elias ('De geboekstaafde claustrofobieën van Marcel van Maele').
1994 Asse, Galerij De Ziener, oplage 200 genummerde en gemonogrammeerde exemplaren. Met een witgeschilderd omslag, gemonogrammeerd op de voorzijde en genummerd op de achterzijde. 22p. 42:30 cm. dubbele cahiersteek.
Een catalogus-object van formaat.
In stock
Gerelateerd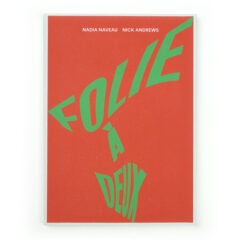 Nick Andrews / Nadia Naveau. Folie à deux.
Een bibliofiele uitgave van Demian en De Vrienden van De Zwarte Panter.
De editie bestaat uit een aquarel van Nick Andrews, een collage object en een cut-out van Nadia Naveau en twee leporello's met werk gemaakt tijdens een recente reis naar Mexico. Nick Andrews' tekst The Ballad of Nick & Nadia completeert dit sprankelende reisverslag.
Het geheel is gevat in een luxe linnen overslagmap (gesloten formaat 26:18,5 cm.) vormgegeven door Jelle Jespers. De oplage is 40 genummerde en gesigneerde exemplaren, waarvan er 30 voor de handel zijn bestemd.
€

450,00
Add to cart