Remco Campert (Tony Rombouts en An Valvekens). Vraag het hemzelf. Praten met Campert.
€45,00
Interview door Tony Rombouts en An Valvekens, opgenomen in Muze-n-Express, jaargang 1, nummer 3. 12p. 37,5:28 cm. 1966 Antwerpen.
In stock
Gerelateerd
Verkocht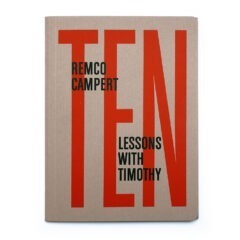 Remco Campert. Ten lessons with Timothy.
Het debuut van Remco Campert in een eenmalige heruitgave met een essay van Nick ter Wal.
De oorspronkelijke uitgave van Ten Lessons with Timothy verscheen december 1950. Rudy Kousbroek drukte het bundeltje op een vloeistofduplicator tijdens zijn werkuren in de kantoren van Unesco te Parijs. De oplage bestond uit 25 genummerde en gesigneerde exemplaren. Elk exemplaar werd voorzien van het nummer 'een'.
Deze tweede editie van Ten lessons with Timothy is vervaardigd volgens het procedé van de eerste uitgave en gedrukt op een authentieke Banda vloeistofduplicator uit 1950. Meesterstencilaar Erwin Blok uit Almelo verzorgde de druk.
De oplage bestaat uit 40 exemplaren, waarvan er 25 voor de handel zijn bestemd. Elk exemplaar is voorzien van het nummer 'twee' en gesigneerd door de dichter.
Het bijgevoegde essay In de sterren geschreven als opgegeven van collega antiquaar Nick ter Wal verduidelijkt de realisatie van de oorspronkelijke uitgave en bevat een uitvoerig verslag van Ter Wals zoektocht naar de overgebleven exemplaren.
Het geheel is gevat in een map met gezeefdrukt omslag. Vormgeving: Jelle Jespers. Zeefdruk: Afreux.
Read more