Bazooka. 31 publications of the Bazooka group. 1976-1978.
31 publications of the Bazooka group, a French graphic punk artist collective formed by Kiki and Loulou Picasso, Bernard Vidal, Olivia Clavel, Lulu Larsen, and Jean Rouzaud. Collected by a Dutch connoisseur in private binding by Pau Groenendijk. 44,5:32 cm.
Un regard moderne no 1 – 5 (1978 Libération)
4 Bazooka inserts from 'Métal Hurlant' magazine (late seventies)
Les animaux malades no 1 – 5 / 7 – 12 (1977)
Bulletin périodique no. 1-7 (1976-1978)
Orphelina Orphanage Graphique no. 1-4 (1978)
Beschrijving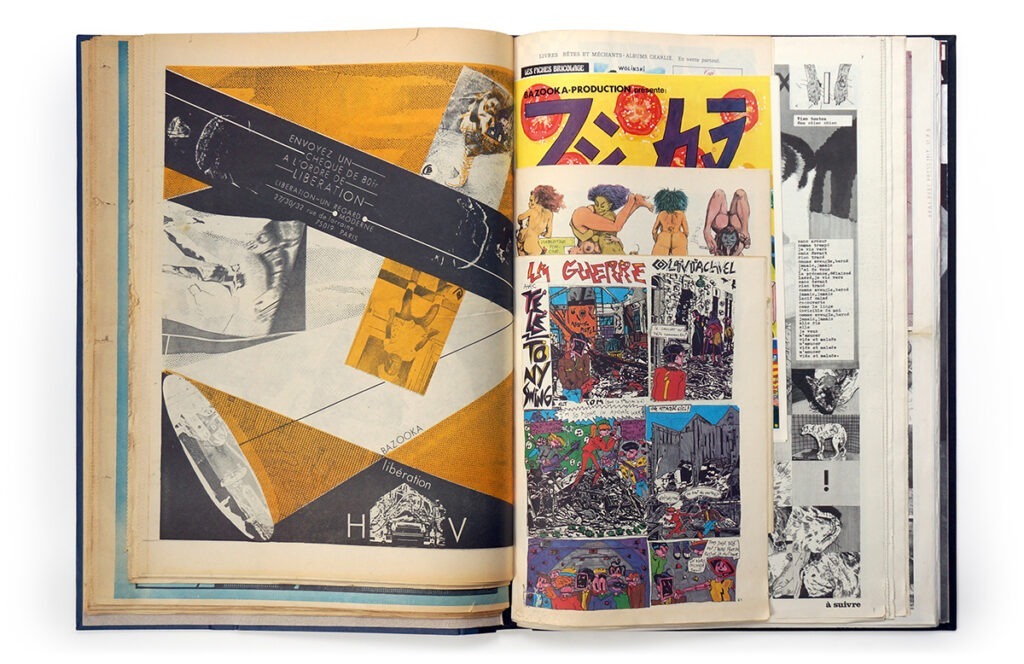 Gerelateerd
Verkocht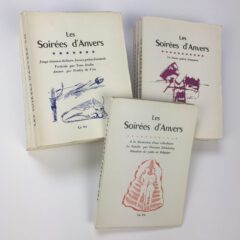 Les Soirées d'Anvers. 12 afleveringen (compleet)
[:nl]1961-1965 Deurne / Anvers, Ça Ira. Oplage 100 exemplaren (uitgezonderd aflevering 1 en 2, respectievelijk met een oplage van 200 en 150 exemplaren). Afleveringen 1 en 10 zijn ongenummerd. 17,5:13,5cm. Ingenaaid. Papieren omslagen.
Met bijdragen van: Tone Brulin, Paul Dewalhens, Jean Dubief, Sophia Dupray, Florence Edimbourg, Max Elskamp, Eugène Fromentin, Michel de Ghelderode, Alain Germoz, Aug. Grisay, Franz Hellens, Robert d'Hondschoote, Victor Hugo, Willy Koninckx, Paul Neuhuys, Paul Joostens, Mado Millot, Willy Prins, Raïna, D.A.F. de Sade, Dimitri Tchermétiev, René Vaes, Willy Vaerewijck, Jan Vaerten en Freddy de Vree.
Naast een themanummer over 'La Jeune poésie française' bevat de reeks ook een aflevering gewijd aan 'Jonge Vlaamse dichters – Jeunes poètes flamands', met werk van Nic van Bruggen, Patrick Conrad, Léon Van Essche, Gust Gils, Jan van der Hoeven, Max Kazan, Ben Klein, Marcel Van Maele, Adriaan Peel, Tony Rombouts, Adriaan de Roover, Clem Schouwenaars, Werner Spillemaekers, René Vaes, Willy Vaerewijck, Jan Vaerten en Paul de Vree. Grotendeels onopengesneden. Mooie set.[:]
Read more