Marcel Broodthaers. Phantomas.
Special Broodthaers issue, designed by the artist.
Bruxelles, Phantomas, February 1966, XIII, No.62, one of 500 copies. Directors: Théodore Koenig, Joseph Noiret, Marcel & Gabriel Piqueray. (16p.) 22,5:14 cm, stapled.
Printed in black and red.
Gerelateerd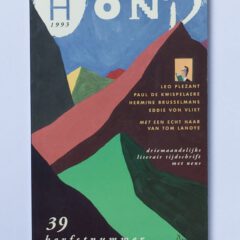 Tom Lanoye. Literair relikwie.
Echt haar van Lanoye onder transparante tape, met gestempelde handtekening. Opgenomen in het tijdschrift De Brakke Hond (driemaandelijks literair tijdschrift met neus) nummer 39. 1993 Antwerpen. Tuimel-editie met aan de ene kant een omslag van Ever Meulen en aan de andere kant een omslag van Benoît. 177p. 20,5:13 cm. garenloos. Bevat eveneens een vermeldenswaardige bijdrage van Ria Pacquée; een fotografische impressie van haar straatperformance '-"It" writing a letter to itself in public'.
€

18,00
Add to basket