Marcel Broodthaers. Phantomas.
€800,00
Special Broodthaers issue, designed by the artist.
Bruxelles, Phantomas, February 1966, XIII, No.62, one of 500 copies. Directors: Théodore Koenig, Joseph Noiret, Marcel & Gabriel Piqueray. (16p.) 22,5:14 cm, stapled.
Printed in black and red.
Out of stock
Gerelateerd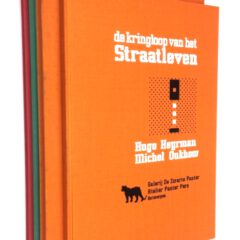 Hugo Heyrman / Michel Oukhow. De kringloop van het straatleven.
[:nl]
1981/1986/1989 Antwerpen, Galerij De Zwarte Panter, compleet in drie delen, oplage 80 exemplaren, telkens één van de zestig Arabisch genummerde exemplaren, gesigneerd door kunstenaar en auteur.
De eerste twee delen bevatten tien inkttekeningen, deel drie tien op de computer uitgevoerde beelden. Fraai gezeefdrukt door Roger Vandaele. 31:22,5 cm. Linnen in schuifdozen. Schuifdozen hier en daar gevlekt, boeken in prima conditie.
[:]
€

450,00
Add to cart