Marcel Broodthaers. Phantomas.
€800,00
Special Broodthaers issue, designed by the artist.
Bruxelles, Phantomas, February 1966, XIII, No.62, one of 500 copies. Directors: Théodore Koenig, Joseph Noiret, Marcel & Gabriel Piqueray. (16p.) 22,5:14 cm, stapled.
Printed in black and red.
Out of stock
Gerelateerd
Verkocht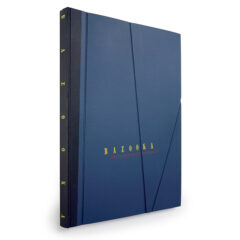 Bazooka. 31 publications of the Bazooka group. 1976-1978.
[:nl]31 publications of the Bazooka group, a French graphic punk artist collective formed by Kiki and Loulou Picasso, Bernard Vidal, Olivia Clavel, Lulu Larsen, and Jean Rouzaud. Collected by a Dutch connoisseur in private binding by Pau Groenendijk. 44,5:32 cm.
Un regard moderne no 1 – 5 (1978 Libération)
4 Bazooka inserts from 'Métal Hurlant' magazine (late seventies)
Les animaux malades no 1 – 5 / 7 – 12 (1977)
Bulletin périodique no. 1-7 (1976-1978)
Orphelina Orphanage Graphique no. 1-4 (1978)
[:]
Read more