Verkocht
Marcel Broodthaers. Phantomas.
Special Broodthaers issue, designed by the artist.
Bruxelles, Phantomas, February 1966, XIII, No.62, one of 500 copies. Directors: Théodore Koenig, Joseph Noiret, Marcel & Gabriel Piqueray. (16p.) 22,5:14 cm, stapled.
Printed in black and red.
Read more
Verkocht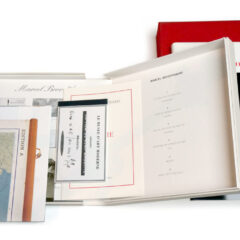 Marcel Broodthaers. Tinaia 9 Box.
1994 Köln, Tinaia 9, box with 'Le poids d'une oeuvre d'art' (monograph by Wilfried Dickhoff), 'Carte du monde poétique' (Poster), '…Modèle: Ceci n'est pas une pipe' (facsimile), 'Interviews with Freddy de Vree' (cd), 'Projets' (Book Project), 'Magie. Art et Politique' (artistbook in reprint).
Complete in original box with red slipcase. 32,5:31 cm.
Read more