Verkocht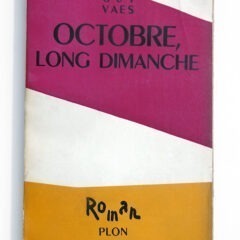 Guy Vaes. Octobre, long dimanche. Roman.
1956 Paris, Librairie Plon, édition originale, 310p. 19:12 cm. Broché. Avec dédicace a Alain Germoz:
"A mon vieil ami Alain,/ cet 'Octobre,/ long dimanche'/ dans lequel il retrouvera le/ principe qui nous obséde de-/ puis des années:/ Pour une robuste décadence/ et pour une vaine morbidité./ Avec toute l'amitié/ de ton compagnon plané-/ taire/ Guy Vaes"
Read more
Maurice Maeterlinck. Douze Chansons. Illustré par Charles Doudelet.
1929 Bruxelles, Edition Aryenne. Printed by Edmond Gregoir after the 1896 edition, and extended with 12 extra illustrations.
This is number 3 of 25 de-luxe copies on Japanese paper (prior to 75 copies on Arches) with hand-coloured illustrations by the artist, and a suite of the illustrations on Chinese paper. Signed by Maeterlinck and Doudelet. 43,5:32,5 cm. in portfolio.
An iconic result of the collaboration between the symbolist writer – and only Belgian Nobel-prize for literature Laureate – Maurice Maeterlinck and the great Belgian symbolist painter Charles Doudelet.
€

4.000,00
Add to basket