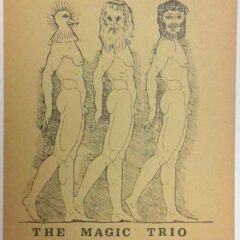 (Hugo Claus). The Magic Trio.
1968 Brussel, Briefkaart met illustratie van De Heilige Drievuldigheid uit Claus' beruchte toneelstuk Masscheroen, uitgegeven ter gelegenheid van 'de Nederlandse Dagen'. Tweezijdig bedrukt. 10:15cm.
Aankondiging van een voordracht van 'het alombekende Magic Trio':
'De Toekomst der Nederlandse Letterkunde is rooskleurig zolang zij geen kloten heeft.'
€

40,00
Add to basket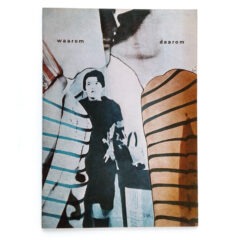 Waarom Daarom. Ruimten.
Themanummer poëtica. Zevende jaargang, nummer 26, 1968. 28 p. 23:16,5 cm. Geniet.
Redactie: Ludo Abicht, Frans Boenders, Herman De Coninck, Wim Gijsen, Jo Stevens, Luc Wenseleers. Omslag: Pol Mara.
Met bijdragen van Ludo Abicht, Albert Bontridder, Louis Paul Boon, Nic Van Bruggen, Herman J. Claeys, Hugo Claus, Herman De Coninck, Mark Dangin, Wim Gijsen, Gust Gils, Jos De Haes, Karel Jonckheere, Herman Moscoviter, Erik Van Ruysbeek, Simon Vinkenoog, Eddy Van Vliet, Hans Van Den Waarsenburg, Dick Walda, Hans Melchior Wap, Marcel Wauters, Luc Wenseleers.
€

15,00
Add to basket