View cart
"Les Soirées d'Anvers. 12 afleveringen (compleet)" has been added to your cart.
Verkocht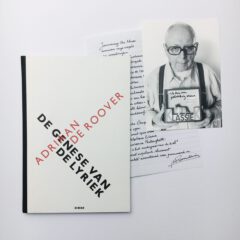 Adriaan de Roover. De genese van de lyriek.
Dertien gedichten. Nawoord Geert Buelens. 2002 Antwerpen, Demian, eerste druk, oplage 263 exemplaren, het laatste van de dertien Romeins genummerde luxe-exemplaren met handgeschreven gedicht ('Jamming the blues') met als extra een handgeschreven regel van de dichter onder het colofon: "Poetry is the underwear of the soul./ 22. 6. 2002", een citaat van Lawrence Ferlinghetti. 48p. 21: 14,5 cm. Ingebonden. Ook gesigneerd door Geert Buelens. Bijgevoegd: uitnodiging voor de boekpresentatie (de Roover met één van zijn poëzie-objecten. Foto: Katell Bertrand) met opschrift van de Roover: "Ik ben een gelukkig mens".
Read more