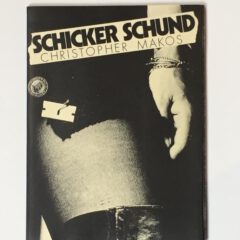 Christopher Makos. Schicker Schund.
1978 München, Verlag Rogner & Bernard, German edition of the photographer's first book 'White Trash', impressions of the New York scene in the late seventies, 30,5:23 cm. Original binding with large foldouts. Design by Fred Myers.
In action: Blondie, William Burroughs, Grace Jones, Iggy Pop, Sex Pistols, Ramones, Andy Warhol, and many others.
€

25,00
Add to basket