Verkocht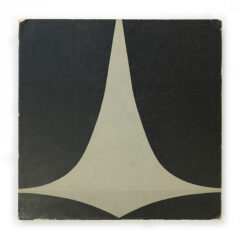 Aloisio Magalhaes / Eugene Feldman. Doorway to Brasilia.
Foreword by John Dos Passos and texts by Lucio Costa and Oscar Niemeyer (in English, Spanish and French). 1959 Philadelphia, The Falcon Press, printed in 2000 numbered copies, 27,5:28 cm. With some spectacularly designed fold-out pages. The graphic design of Doorway to Brasilia is a collaboration between Brazilian artist and graphic designer Aloisio Magalhaes and American artist, designer and printer Eugene Feldman (The Falcon Press).
In this experimental book photo-offset lithography is used as an art form. The printing medium chosen involves the use of continuous tone negatives without the conventional checkerboard screening process. These pages represent a test in the exposure control of aluminium offset plates and their ability to hold tones other than black. Experiments were performed using several plates made from the same negative, each with increased exposure. The heaviest plate was printed in the lightest color, the medium plate in grey, and the light plate in black.
Binding slightly bumped at the extremities, but on the whole a good copy of this uncommon edition.
Read more