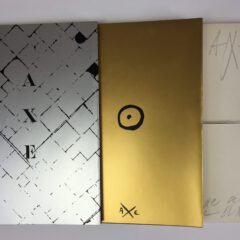 Guy Schraenen. AXE
Revue 1-3 (all published). 1975-1976 Antwerpen, Guy Schraenen, limited to 500 copies, one of the 370  numbered regular copies, complete in original slip-case. 30,5:21,5 cm.
All contributions (in silk-screen, offset and letterpress on various papers) are presented in a sparkling variety: foldouts, collages, vinyl, separate booklets.
Each issue contains a 7-inch vinyl dedicated to sound poetry: Henri Chopin & Brion Gysin [Axe 1], Brion Gysin and François Dufrêne [Axe 2], Sten Hanson [Axe 3].
Artists:
Roy Adzak, Eduard Bal, Antoine de Bary, Maurice Benhamou, Bram Bogart , Henri Chopin, Hugo De Clercq, Niko van Daele, Degottex, Jo Delahaut, Mirtha Dermisache, François Dufrêne, Esmeraldo, John Giorno, René Guiette, Brion Gysin, Sten Hanson, Bernard Heidsieck, Arrigo Lora-Totino, Françoise Mairey, Paul van Ostaijen, Plessi, Klaus Ritterbusch, L.J.P. Schelfhout, Ung No Lee.
Guy Schraenen's amazing multimedia magazine in fine condition.
€

700,00
Add to basket
Verkocht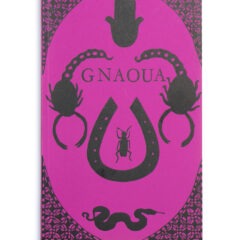 Ira Cohen (and others). Gnaoua. Number one.
Spring 1964 Tangier (=Antwerp…) No further issues were published.
With contributions by William Burroughs, Ian Summerville, Brion Gysin, Harold Norse, Allen Ginsberg, Michael McClure, J. Sheeper, Jack Smith, Marc Schleifer, Mohammed Ben Abdullah Yussifi, J. Weir, Stuart Gordon, Tatiana, and Alfred Jarry. Edited and published by Ira Cohen.
The Antwerp Publisher 'Ontwikkeling' took care of printing and distribution of this legendary underground magazine. A copy of Gnaoua is to be seen in Daniel Kramer's photograph on the front cover of Bob Dylan's record sleeve 'Bringing it all back home' (1965). Look for it on the mantelpiece!
This is the second edition (not stated) of Gnaoua that was printed in June 1964 and differs only from the first (April 1964) in two small text corrections on pages 87 and 101.
Excellent copy in mint condition.
Read more