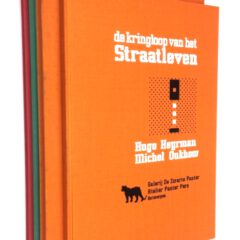 Hugo Heyrman / Michel Oukhow. De kringloop van het straatleven.
1981/1986/1989 Antwerpen, Galerij De Zwarte Panter, compleet in drie delen, oplage 80 exemplaren, telkens één van de zestig Arabisch genummerde exemplaren, gesigneerd door kunstenaar en auteur.
De eerste twee delen bevatten tien inkttekeningen, deel drie tien op de computer uitgevoerde beelden. Fraai gezeefdrukt door Roger Vandaele. 31:22,5 cm. Linnen in schuifdozen. Schuifdozen hier en daar gevlekt, boeken in prima conditie.
€

450,00
Add to basket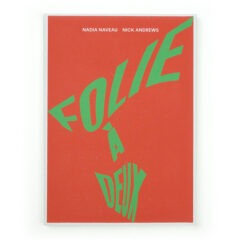 Nick Andrews / Nadia Naveau. Folie à deux.
Een bibliofiele uitgave van Demian en De Vrienden van De Zwarte Panter.
De editie bestaat uit een aquarel van Nick Andrews, een collage object en een cut-out van Nadia Naveau en twee leporello's met werk gemaakt tijdens een recente reis naar Mexico. Nick Andrews' tekst The Ballad of Nick & Nadia completeert dit sprankelende reisverslag.
Het geheel is gevat in een luxe linnen overslagmap (gesloten formaat 26:18,5 cm.) vormgegeven door Jelle Jespers. De oplage is 40 genummerde en gesigneerde exemplaren, waarvan er 30 voor de handel zijn bestemd.
€

450,00
Add to basket