View cart
"Michel Bartosik. Linguïstiek." has been added to your cart.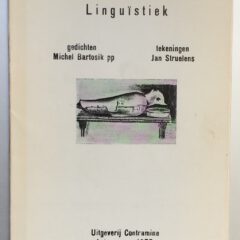 Michel Bartosik. Linguïstiek.
Gedichten. Met kaftontwerp en drie tekeningen van Jan Struelens. 1975 Antwerpen, Uitgeverij Contramine, eerste druk, debuut, oplage 180 genummerde exemplaren. 30p. 21,5:15,5 cm. Losbladig in omslag.
Met opdracht aan een mede-Pink Poet:
"Voor Henri-Floris Jespers Initiator,/ deze anatomie van de adem./ van harte,/ Michel B."
€

50,00
Add to cart
Verkocht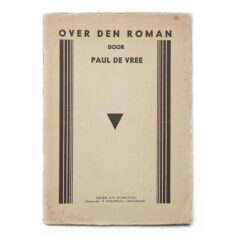 Paul De Vree. Over den Roman.
Cursus gehouden aan de Volksuniversiteit Herman van den Reeck. 1933 Langemark, overdruk uit Jong Dietschland studieblad voor Vlaamsche cultuur en politiek, debuut, eerste druk, 56p. 23:16 cm. Geniet.
Uit het vroegere bezit van Freddy de Vree, met zijn naam en adres op de eerste pagina.
€

60,00
Read more