Verkocht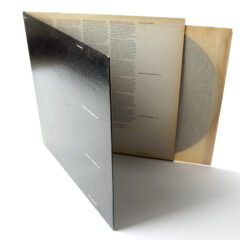 Art By Telephone (This is a recording).
1969 Chicago, Museum of Contemporary Art, catalogue on vinyl. Curator Jan van der Marck invited several conceptual artists to describe their art projects by telephone. The album features the recorded conversations.
These instructions for installations and projects that are spoken of were executed in the exhibition.
With contributions by: Siah Armajani, Richard Artschwager, John Baldessari, Ian Baxter, Mel Bochner, George Brecht, Jack Burnham, James Lee Byars, Robert Cumming, Francoise Dallegret, Jan Dibbets, John Giomo, Robert Grosvenor, Hans Haacke, Richard Hamilton, Dick Higgins, Davi Det Hompsom, Robert Huot, Alain Jacquet, Edward Kienholz, Joseph Kosuth, Les Levine, Sol LeWitt, Robert Monis, Bruce Nauman, Claes Oldenburg, Dennis
Oppenheim, Richard Serra, Robert Smithson, Gunther Uecker, Stan van der Beek, Bernard Venet, Frank Lincoln Viner, Wolf Vostell, William Wegman and William T. Wiley.
Spoken art! In fine condition.
Read more
Verkocht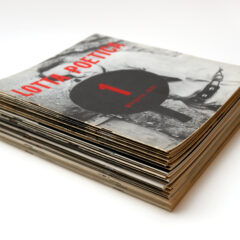 Lotta Poetica.
Rivista mensile/ Revue mensuelle/ Maandelijks tijdschrift/ Monthly review. Direzione / Direction: Paul De Vree & Sarenco.
1971-1975 Villa-nuova sul Clisi, Edizioni Amadulo, Eerste reeks compleet, 50 nummers in 32 afleveringen. 25:21,5 cm. geniet.
Met bijdragen van: Karel Adamus, Oreste Amato, Rossana Apicella, Richard Artschwager, Bernard Aubertin, Enrico Baj, Gianni Bertini, Joseph Beuys, Jean Francois Bory, Vladimir Burda, Henri Chopin, Cordioli, Robin Crozier, Guillermo Deisler, Ad Dekkers, Carl Friedrich Claus, Herman Damen, Ad Dekkers, Wladimir Dias-Pino, Herbert Distel, Cor Doesburg, Giorgio Dri, Fraco Fabiano, Enea Ferrari, Ludo Frateur, Ken Friedman, Jochen Gerz, Dick Higgins, Ewerdt Hilgemann, Emilio Isgro, Francoise Janicot, Stephen Kaltenbach, Tomaso Kemeny, Richard Kostelanetz, Alfonso Lopez Gradoli, J.H. Kocman, Jiri Kolar, Joseph Kosuth, Piero Manzoni, Lucia Marcucci, Elio Mariani, Slavko Matkovic, Peter Mayer, Christian Megert, Peter Meyboom, Eugenio Miccini, Alain Arias Misson, Aldo Mondino, Stephen Morris, Hidetoshi Nagasawa, Josef Nonys, Nahl Nucha, Luciano Ori, Clemente Padin, C.O. Paeffgen, Michele Perfetti, Lamberto Pignotti, B. Poznanovic, Prospet, Gert Jan de Rook, Sarenco, Antonio Scaccabarozzi, Jean-Marie le Sidaner, Carlo Alberto Sitta, Klaus Staeck, Carolyn Stoloff, Vlada Stojiljkovic, Miroljub Todorovic, Shimizu Toshihiko, Balint Szombathy, Tommaso Trini, Karel Trinkewitz, Tim Ulrichs, Franco Vaccari, Jiri Valoch, Henri Vandenberghe, Ben Vautier, Edgardo Antonio Vigo, Paul De Vree, Herman de Vries, Roland Werro en Jan Wojnar.
Read more