View cart
"Eddy du Perron (als Duco Perkens). Nanemo's Terugkeer" has been added to your cart.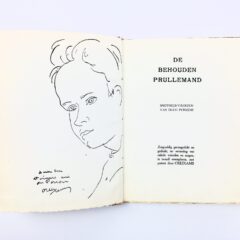 Eddy du Perron (als Duco Perkens). De behouden prullemand.
Snotneus-vaerzen van Duco Perkens. Zorgvuldig gerangschikt en gedrukt, ter vermeiïng van enkele vrienden en magen, in twaalf exemplaren, met portret door Creixams. 1925 (Brussel), eigen beheer, oplage 12 exemplaren, 65p. 20:15,5 cm. Ingebonden in een blinde band met sierpapier overplakt (plaatselijk wat papierverlies), met behoud van het oorspronkelijke omslag.
Du Perrons voorliefde voor uniforme en anonieme boekbanden is bekend. De overeenkomstige uitvoering van het exemplaar in de collectie van de Koninklijke Bibliotheek in Den Haag, uit het vroegere bezit van A.A.M. Stols (met dank aan collega Fokas Holthuis voor deze vaststelling) wijst op mogelijk meerdere exemplaren in deze blinde band en doet ons veronderstellen dat dit de door Du Perron bedoelde uitgeversband is.
Van 'Prilste Bellen', 'Pootigheidjes' tot 'De schoone Mirette voor wie mijn Hart van Liefde werd vervuld en berstte'.
Met een bondige verantwoording vooraf:
'Zonder het getuigenis van Creixams, die mij — in Juli '22 — ongeveer gezien moet hebben zooals ik was, zou ik het misschien niet gewaagd hebben deze vaerzen, zij 't slechts in twaalf exemplaren, te doen drukken. Het portret kan ruimschoots tot inleiding dienen'.
€

1.800,00
Add to cart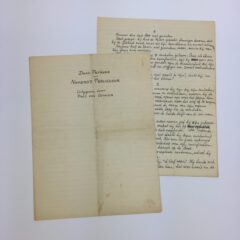 Eddy du Perron (als Duco Perkens). Nanemo's Terugkeer
Origineel handschrift van het verhaal Nameno's Terugkeer, uit het vroegere bezit van Paul van Ostaijen. Du Perron stuurde Van Ostaijen Nameno's Terugkeer in april 1927 met de bedoeling het door hem te laten uitgeven. Van Ostaijen was van plan om onder imprint van 'Het Sienjaal' opnieuw eigen werk en werk van Du Perron te publiceren, maar uiteindelijk kwam daar niets van.
€

5.000,00
Add to cart